DISCOVER DNA
Your future, your way
We're always on the hunt for talented people who thrive on building lasting connections. DNA'ers are curious, energetic, driven, open-minded, innovative, empathetic, know when to listen and are devoted to detail. If this sounds like you and you're creative enough to attract and find top-notch talent and passionate enough to knock it out of the park with every placement, we'd love to hear from you.
DNA are one of the first fully remote recruitment businesses in the UK and across the globe. This gives our team full flexibility to work as a home-based consultant or from any of our stunning co-working office spaces across the UK (TOG & WeWork).
This fully remote, work-from-anywhere model whether that be from your home or taking your laptop on your travels, has enabled us to become a truly international business. The DNA team enjoy an incredible work/life balance and we encourage our team to pursue their interests and passions.
You'd be joining a recruitment company that's been in the industry since 2008 and have built up an extensive network of connections with industry leading businesses. Discover DNA... your future, your way.
We encourage everybody in our team to develop and grow into the best version of themselves. We're passionate about creating a vibrant, trusting and inclusive environment so all DNA'ers can be confidently authentic knowing they are working with a group of lovely people that truly care about every person-to-person connection.
We have a diverse team with people working internationally because of our fully remote working model. See our full D&I policy here
DNA invests heavily in marketing and technology and by combining this with generating and actioning data insights we are able to make the best hiring decisions, and support our clients in attracting and hiring the best Tech, Creative and Data talent to help them gain a competitive advantage globally.
We have also invested in a leading technology stack and productised recruitment solutions such as Bullhorn, Bullhorn Analytics, Broadbean, LinkedIn Enterprise License, Paiger, Hinterview DNA video software, DNA laptop and mobile, and softphone for international employees.
EVEN THE BEST NEED TOP TIER TALENT
DNA Opportunities
What we believe in
What we believe in
OUR VALUES
THE DNA PILLARS
OUR BEHAVIOURS
DNA MANIFESTO
Brilliantly Effective
We're committed to finding the right people for the right career, but we don't just use our expertise to get them there. Getting to know everyone we work with helps us create fully collaborative partnerships that lead to longstanding relationships.
Genuinely Unique
We're ambitious, hardworking and focused but we stay grounded. We make a great team by sharing opportunities and successes. Forever open, honest and transparent everyone knows where they stand, making us one of a kind in our industry.
Truly Personal
What we do impacts a person's life, whether they're recruiting or searching or even working here at DNA. We invest in every person we meet; we support their next steps and celebrate their successes. And when they're happy professionally, they're comfortable at home, and that's what makes us happy.
Forward Thinking
With years of experience and knowledge behind us, we're able to look to the future and evolve with the ever changing market we work in. Our network is doing just that when they seek new opportunities, so we use our skills, insight and intuition to make their next step the right one for them.
Relationships: Magnetic partnerships
Determined to discover what makes you tick.
Purposeful partnerships.
We're part of our clients' crew.
Technology: Steadfast systems
The tools you need to map your career path.
First rate tech = quality connections.
Premium processes for top-notch talent.
Culture: We're people people
Connections over commissions.
Talent hunters.
Show us the real you!
Expertise: Handpicked team
Thoughtful consulting.
Devoted to detail.
We listen. We care. We deliver.
Human First
• Genuinely care - show your human side
• Be supportive and approachable
• Actively listen, building empathy and understanding
• Put people before processes – make decisions with the client in mind
Stronger Together
• Collaborate effectively, share widely and play to strengths
• Actively seek diverse views and embrace different perspectives
• Act with respect and humility, no exceptions
• Recognise achievements and celebrate success
Lead the Way
• We anticipate needs, adapt and evolve to always be relevant
• Be bold; innovate and embrace new ways of doing things
• Be solutions focused, inspire and empower others
• Learn from each other, our clients, our experience and our mistakes
Make It Happen
• Drive actions, owning your impact
• Cut-through the detail, simplify the complex and prioritise well
• Focus on quality and outcomes
• Be open, honest and transparent
Trust & respect is more important than coming to 'work'.

Quality output can be created anywhere.

Collaboration can take many forms.

Work / life balance should complete not divide.

Attracting diverse talent through flexible, fully remote role modelling.

Everybody has a right to be their authentic self at work.

We help each other personally and professionally when needed.
---
Putting our people first
DNA BENEFITS & PERSONAL DEVELOPMENT Perks
Attractive Basic Salary
As a recruiter we have our finger on the pulse of industry salaries, so are keen to ensure we offer an attractive basic salary to all our employees.
Quarterly Commission Scheme
An exciting uncapped commission scheme.
Work from Anywhere
Literally anywhere. You can travel internationally and take your laptop with you! Or, you can work from home or in any of our co-working spaces across the UK. We also offer a full remote working tech set up.
Flexible Holiday Scheme
25 days holiday a year + your birthday off
Quarterly and Annual Sales Incentives
Quarterly and Annual high achiever incentives
Share option scheme
EMI scheme (Vest'd). Participation at Directors' discretion
Volunteer scheme
As part of our 'giving back' scheme we encourage our employees to spend one day each year supporting a charity of choice or working in the community.
Monthly Team Day
Monthly London Team day – coworking day followed by dinner & drinks on DNA.
Personal Branding Training
Hoxo Academy - external personal branding training and working with our Marketing Partner and in-house DNA Marketing team on socials, content, and outreach campaigns.
Talent Sourcing Support
Dedicated Offshore Talent Sourcing team based out of South Africa to support your desk on achievement of key milestones.
Training and Mentoring
Part of TRN (The Recruitment Network) which is open to the whole DNA team for training, mentoring and peer to peer knowledge sharing. Personal log in to TRN world platform training and support.
---
Driven by others success
Meet our people
---
Let us get you started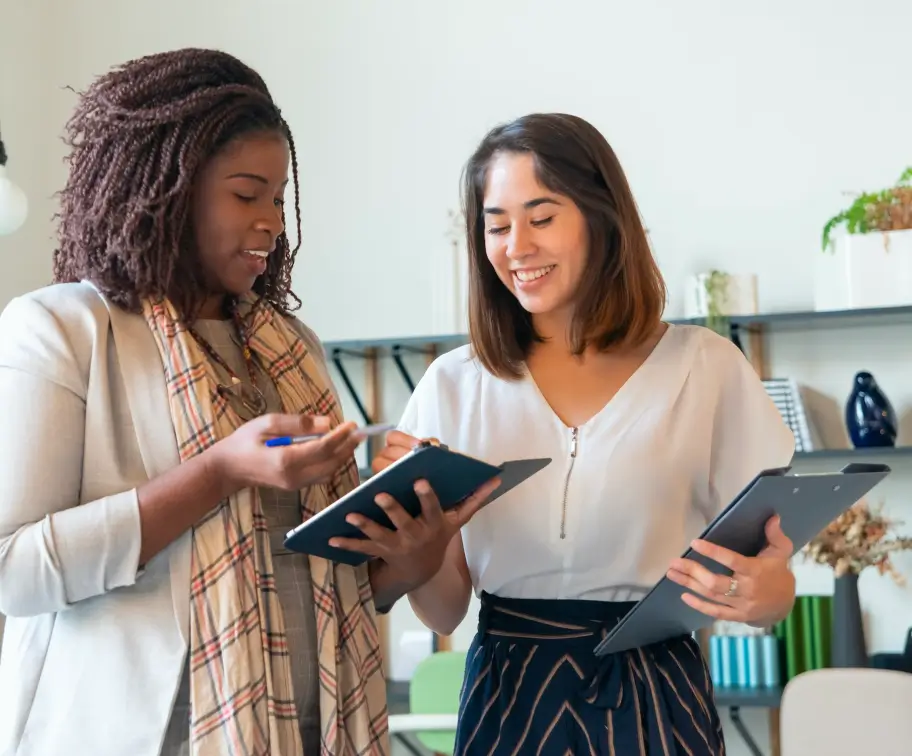 Talent acquisition
We deliver dynamic recruitment, search and talent solutions that build new alliances between ambitious brands and the people they need to evolve and grow their businesses.
Get in Touch
See your future at DNA?
Fill out the form - we'd love to talk to you!