WE ARE DNA
We believe in creative connections.
Ali and his team at DNA took great care and support throughout the entire process. A great head hunter with both a strategic and human connection with businesses and their talents. Lots of fun as well!
Danila Luppino
Creative Director
I've just had the pleasure of working with DNA and securing a new and exciting job. From the first conversation until the job offer both Ali and Leatitia were professional and insightful offering good advice and keeping me updated at every step. The biggest difference I found working with DNA was their ability to help me see the opportunity from a perspective that I could have missed out on if I'd gone for this on my own. This perspective changed my approach and brought a higher level of appreciation not just for the opportunity but also for the understanding DNA had of the company and its future goals. I'm very excited about this next stage of my career and am very grateful for the work DNA has done behind the scenes to assist me in getting the job.
Robert Boswell
Operations Manager
We've been collaborating with DNA for as long as I can remember! Ali and his team take a vested interest in our agency, are proactive around our ambitions, and understand our culture.
James Simpkins
2Heads Global CGO
DNA Recruit was an absolute lifesaver. After six months of searching and attending interviews that didn't yield any results, they helped me secure a job. The team, especially Leatitia, displayed a high level of professionalism and guided me through each round of interviews to help me find a career-defining role. Their transparency, inspiration, and promptness throughout the process were commendable. Despite having worked with numerous recruiters during my 16 years in digital marketing, I can confidently say that this was the best team I've encountered. And, I must mention, the delightful gift hamper I received upon landing the job was the sweetest cherry on top of the cake.
Firdaus Haque
Social Media Director
Ali, Leatitia and Varun at DNA are brilliant. I have varied experience with recruiters over the years, as a client and candidate, and I have to say that DNA has been the best. As the successful candidate for this mega role, I can't thank them enough for the crucial role they've played in making it happen. From Varun bringing the role to my attention in the first place to Ali and Leatitia helping negotiate complicated, yet fabulous terms, they have been warm, understanding and diligent throughout. If I was the client this is exactly how I would want my recruitment partner to support the delivery of my growth strategy. In my new role, as the client, I will be using DNA to do just that.
Matt Dunn
Head of Digital & Technology
Stephen rapidly provided a range of great candidates for a senior sales role utilising-DNAs platform so succinct first interviews were provided. These could be viewed, discussed internally and re-reviewed prior to shortlisting for final interviews. The main challenge was the selection decisions as all the professionals proposed were excellent.
Adam Hainsworth
CEO & Owner, be the brand experience
After running a small business for several years, stepping back into the 'employed' workspace was proving to be a real challenge, especially when trying to convey the necessary experience to prospective employers. DNA have been worth their weight in gold in this respect, asking pertinent questions, communicating accurately and being attentive to both my and a prospective employer's requirements to find a match. Huge thanks to Gemma and the team as I now look forward to the start of a new path in my career!
From start to finish DNA looked after me every step of the way. The team was extremely diligent in working out what role was best for me, and what my true motivations were. Once we found a role that was well suited the help I received through the interview process, job offer and negotiation period was extremely helpful and meant I secured the job of my dreams. Since starting we have kept in contact, ensuring that I am enjoying it most importantly but also they're always a text or phone call away for some advice.Thank you to Ali and the team for the hours of help they gave to me and I would highly recommend them to anyone looking for a new role.
James Over
Partnerships & New Business Director
I've known Ali for over 15 years. What differentiates him and his company from other recruitment consultants is the ability to understand people at a personal level rather than just what stands on their CV.
He is deeply interested in people and how they tick, dare I say their DNA, and matching candidates with companies successfully over many years. He recently opened a senior opportunity for me in Germany, which only Ali could do with his contacts, experience and understanding of both parties.
Martyn Farmer
Managing Director
The process was inspiring and my recruiter, Yasir, felt more like my spokesperson than a recruiter. We created a video CV through the DNAScreen platform, which allowed me to demonstrate my experience and abilities as a "Video CV" for the client which helped push for exactly what I was looking for: my dream job. Communication was cogent and I was kept well informed throughout the process. It's easy to lose talent to nerves, so I recommend DNA's approach to recruitment.
Arthur Brennan
Roblox Developer
Megan and Steph helped me secure a dream role recently. They were very professional, helpful and more importantly personable every step of the way. I would highly recommend them both and will be using them for my own recruitment needs in my new role. You were honestly amazing and it was one of my best experiences with a recruitment agency. Five stars all along the way for Megan and Steph.
Fahed Elmoudni
Senior Project Manager
I am so grateful Leatitia contacted me with a role that was perfectly aligned with my experience and goals. Leatitia has now placed me in my dream role and the level of support I have been lucky enough to receive working on this opportunity has been incredible. The communication has been fantastic and working with Leatitia has been great because she is so friendly and professional. I really appreciated her transparency and guidance throughout the process, so professional and clearly very experienced! Amazing recruiter and a lovely person to work with. I would highly recommend Leatitia as a stand-out recruiter, she has been absolutely fantastic. The whole experience felt seamless and I am very impressed, thanks so much DNA and especially Leatitia! Feel free to edit as much as you like. I am so grateful you reached out and thanks again for creating this career-defining opportunity for me, you are a recruitment rockstar!
Kirsten Donaldson
Director New Business Development
Liza played a crucial role in connecting me with an incredible job opportunity. She demonstrated exceptional professionalism and showcased an impressive network of contacts and swiftly identified a range of suitable positions for me.
Liam George
Paid Social Manager
Over the last 12 years, Ali and DNA have placed some of the strongest people at MARS and the partnership, across all agencies, at all levels - we rely on them to deliver us strong talent who fit into our ever-expanding business.
Darren Keen
CEO International Markets
I had the pleasure of working with Jo for a good few weeks and I must say her personality, professionalism and the way she made me feel so valued was simply refreshing. From our first phone call to the constant updates with regard to opportunity and roles I will say have been amazing. Jo is a joy to work with, I can only imagine what it must be like working alongside her. Thank you for this last week you have really made a difference
I worked with Stephen to find my current role. Right from the start Stephen was genuinely interested in what I was looking for in my next role. He took the time to get to know me rather than just using my CV & LinkedIn for reference. This really set him apart from others in the market. He helped in all stages of the interview process and was open and honest about roles, companies and the recruitment process. I'd definitely look to work with Stephen again and would recommend him to anyone looking for a new role.
Ross Jenner
Sales Director
I've had a brilliant experience working with Steve over the past few months. I had been looking to change my career path, which is not an easy transition to make, and Steve really took the time to understand my career goals and motivations and ultimately found the perfect role for me. Throughout the entire process, he provided excellent guidance, support and regular contact, keeping me informed at every step of the way. It has been a pleasure working with Steve and I cannot recommend him highly enough.
George Lee
Junior Product Owner
​I first engaged with DNA when Ali and his team visited UAE 10 years ago where he and the team were looking to place some very talented positions into Grey Group in Dubai. Within minutes I understood that DNA's agency knowledge, insight and global spread was impressive, and the team had obviously done some very thorough research on candidacy and needs. Ever since then, DNA has always been engaged, looking for opportunities for my staffing needs and reassuringly, looking for the right opportunities for myself, aiding my personal creative journey. Ali recently presented me with a 'glove' opportunity, where the brief could have literally been written with myself in mind, and through a very interpersonal approach, DNA coached and facilitated everything needed to make the introduction and interview process an informative, pleasurable and successful experience. Always reassuring to have a team who are driven and knowledgeable, who research positions that don't just fit, but can immerse candidates seamlessly into creative organisations – DNA is an apt naming moniker for a personal partnership like this.
Andrew Mitchell
Executive Creative Director
Everyone knows Ali'. I've heard that umpteen times over because it's true. Both he and his team at DNA are one connected outfit. Fast with finding new opportunities, fast in making things happen, plus a certain knack for finding the right fit quickly. What more can you ask for in a recruitment partner? Thanks, Ali. Thanks, DNA.
Dan Eaves
Head of Client Development
I am thrilled to write this testimonial for Stephanie Crotty and Megan Davis at DNA Recruit. Their dedication and commitment to helping me secure a role with a top digital marketing agency has been nothing short of amazing. From the very beginning, Stephanie and Megan took the time to understand my career goals, skillset and preferences. They listened attentively to my needs and preferences and matched me with a role that not only aligned with my aspirations but exceeded my expectations. Throughout the recruitment process, Stephanie and Megan have been professional, responsive, and supportive. They kept me informed at every stage, providing me with valuable insights and advice that helped me to perform at my best during interviews. They were always available to answer my questions and offer guidance, which made the experience stress-free and seamless. I was blown away by their attention to detail and the thoroughness with which they handled every aspect of the recruitment process. Their level of care and dedication made me feel valued as a candidate, and I am grateful for their expertise in connecting me with a role that was an excellent match for me. I cannot recommend Stephanie and Megan at DNA Recruit enough. They are exceptional recruiters who go above and beyond to help candidates achieve their career goals. Thank you for your outstanding service, Stephanie and Megan.
Dan Martins
Senior Account Director
I have known of Ali and the DNA Recruit team for some time, but when I approached Ali he had one role that felt perfect for me, he gave me a very detailed but short intro to the role and went through a very in-depth onboarding session, finding out my aspirations and goals and what drives me from a professional and personal point of view. Off the back of the onboarding, I had never felt so confident that Ali and the team would find me my next perfect role as well as match me up to the ideal culture fit. Ahead of every key moment during the process, Ali and his team were on hand to give me guidance, and insights and check over anything I was going to be sharing and presenting which felt amazing having that true partner in my corner the entire time. To say DNA delivered would be an understatement, I'll always recommend Ali to friends and continue to use them at Leith. I'm sure I won't need him for a very, very long time but if I ever need to, he'll be the first man I'll call. Amazing work from the very start to the very last moment, you guys have been amazing and I certainly wouldn't be where I am without you all.
Luke McQuillan
New Business Director
We love working with Liza. She "gets" the brief straight away, she works incredibly hard, nothing is too much trouble and all the time you get the sense that she's absolutely determined to find the right solution.
David Wood
Group Chairman, BBL/P
Ali and the team at DNA continue to be a partner of Somo (now part of CI&T) with a strong track record of sourcing great talent in a timely and professional manner. The combination of access to a great talent network combined with a slick video shortlist and review process makes working together a pleasure and the team always ensures we have some fun along the way!!
Jason Hooper
Senior Vice President, EMEA, CI&T
Ali Wallace, and the DNA team in general, have been an absolute revelation for me within new job recruitment and my career progression. From a client servicing viewpoint, both with the relationships Ali clearly has with senior leaders/decision makers to how they help job hunters, their service is the gold standard. They will communicate honestly and provide you with the coaching you need to land the jobs you interview for. Whereas previous recruiters I have worked with largely just push any opportunities they have available to them (akin to used car salesmen) it felt like Ali listened to my brief and cherry-picked opportunities that were actually worth attending (both from a salary and career progression viewpoint). Having received this service, it is going to be difficult to use other recruiters that do not compete with DNA's standard of service.
Steve has been a fantastic recruiter to work with. Throughout the entire process, he kept me informed and provided excellent advice pre and post-interview, taking the time to speak on a regular basis. I would not hesitate to recommend Steve in the future.
Nick Carter
Customer Success Manager
I had a great recruitment experience while being supported and guided by Stephen. He took the time to get to know me, as well as understand my experiences and where I see myself in a few years' time. He found the perfect role for me, kept me updated and checked in often to see how I was feeling. This minimised the stress of the recruitment process, allowing me to calmly focus on preparing for the next stages rather than worrying. I would highly recommend working with Stephen!
Julia Grodzka
CX Consultant
Megan and Steph, thank you so much for all your help with the job search! I really couldn't have done it without you reaching out and just being all-around amazing with the process. You were so patient and put me first, which I haven't experienced before. This new job will benefit my mental health and just be a greener grass, which I really wouldn't have had the opportunity to get without you. I appreciate all your efforts and would gladly recommend you guys to everyone I know!! Really can't thank you enough.
Safia Malik
Account Manager
Working with Joanne was an absolute pleasure - she was a true professional. Not only did she take the time to understand my needs, but she was also able to provide me with an excellent recruitment process and advice. She managed to link me with potential job opportunities that would provide me with the work-life balance that I was looking for and gave me the necessary advice to make sure my skills and passion were communicated to the client. Joanne was always quick to update me with the progress of my applications, so I highly recommend her to anyone looking for a secure job in these uncertain times.
Shilpi S Raut
Marketing Success Manager
DNA's tenacity and commitment to getting the best result for both the client and the candidates they represent is incredible (I know, I have been both). Their proactivity in seeking out the best industry talent that exactly meets the brief has been incredible, they approach every search like a treasure hunt and will not rest until they have found your pot of gold. Ali & Gemma have boundless energy, enthusiasm, and persistence and are generous with their wise counsel. They are candid, supportive, encouraging, optimistic realists, solutions focused and a pleasure to work with.
Chris Doggart
Events & Experiential
Ana is very attentive, scrupulous, and empathetic. She really cares about finding the most suitable opportunity for the candidate, the whole process felt like a team effort and not a trial-and-error affair. It was seamless and quick, and Ana supported me and kept me informed and motivated every step of the way.
Stefania Paolini
Content Strategy Director, Clockwork Media
Steph has worked on several key briefs across Client Services and Production for Craft London. She recently placed a candidate in our Client Service Team. Steph proved to be a solid recruitment partner to us and introduced us to some talented, well-matched candidates. She kept us up to date throughout the process, providing quick feedback following interviews and was always available out of hours or for last-minute changes to interviews (even when on holiday!). We have built up a great relationship with her. A credit to DNA
Kat Denham
Senior Talent Partner, Craft London
Who and what Ali doesn't know within the agency world isn't worth knowing. Having the support of someone who understands every part of the recruitment process and can give honest and informative advice is key to making the right decisions when taking on a new role. Ali was able to give me that support and make sure that the role fitted both my needs and that of my new company. I would recommend Ali and DNA to anyone.
George Perry
Global Business Development Director
What you get with DNA Recruit is the comfort that they understand your business, culture, role and opportunity from the inside out, not only for the candidate but for you too. I've worked with DNA recruit for several years and always find them to provide an impeccable service. DNA Recruit are a real pleasure to work with and are always my first call when headhunting a senior role. DNA Recruit bring a market leading retained search offering and state of the art technology to help speed up the process for both the candidate and the client alike. They are the best headhunter / recruiter I have ever worked with as both a client and a candidate…and would not hesitate to recommend DNA as they will never let you down.
Jo has truly been a pleasure to work with. Her calm demeanour and reassuring pep talks have guided me through the process to land me a dream position! Jo always kept me in the loop and never hesitated to answer any of my questions, keeping me well informed during the recruitment process.
Melanie Callender
Senior Marketing and Brand Manager
My time working with Steph throughout my interview process, job offer, and negotiation period with GDR has been exceptional.I have found Steph to always be of a positive and bubbly disposition. Always helpful in interview prep, talking through the job offer, and particular emphasis on after I've got the job. Reaching out to me, seeing how I'm doing, is my wellbeing going well, am I enjoying the role. Which I haven't really experienced from any other recruiter before.I highly recommend Steph as a person, for her work, and the service that she provides. DNA are lucky to have her there.
Louise Bell
Account Director
I met Stephen soon after I started intensively looking for a new job. From the beginning, it was clear that his approach is different compared to many other recruiters. Unlike others who would rather ask for your expectations first and then try to prettify the job description to fit into your expectations, he first presented the company and the open position as it is, without hiding anything, and then asked me how I felt about it. It was clear he wanted to make sure that I am fully committed as well before proceeding with the interview, because he wanted to avoid wasting everybody's time in case it is obvious that I can't really imagine myself working there. That gave me the impression that he earned the respect and trust of his clients by recommending only the best candidates who fit into the company's culture and open position. Because of that I felt confident that I will not be just another candidate, but one of few who will actually get the full attention of the interviewers and be able to present myself as who I really am and demonstrate my skills. He was there throughout the whole process of employment and called me as soon as possible every time he got new information. Although this is my first fully remote job, and it was the first time my company employed someone from my country, Stephen's experience and reliability made the entire process completely stress-free, because I knew he would have helped me resolve any obstacles in case they had come up.
Dean Leibner
Fullstack Software Development Engineer
I have recently been accepted for a new role due to DNA and more specifically Gemma's support.The recruitment process is incredibly hard work when you are attempting it solo, and after many rejections and frustrations I decided to call up on DNA for recruitment support - and I am so happy I did.From the start DNA was incredibly helpful and assigned me to Gemma who has been, in short, wonderful. Every step of the process from initial conversation, potential opportunities, regular updates, honest conversations about my options, through to the success and administration of the role Gemma has been incredible.She has been motivating, honest and personal and I genuinely felt she had my best interests at heart. It was, considering the process, a pleasurable experience."I owe the next phase in my career to her and DNA and humbled by the work they have put in.
Dear Gemma, we have all been super impressed by the standard of candidates put forward from DNA. I know it's a tough job market but if you find the right agents who'll look hard enough there is always great talent out there to meet. We interviewed 8 candidates for the AD role and all three shortlisted are from DNA. Thank you for all your hard work.
Sharon Richey
Global MD, Because
Finding the 'right' role in the agency world can be tricky and it's taught me the value of having a strong network of ally's that can introduce you to the right people. I fortunately happen to have Ali within my network and have had the pleasure of working with him the last couple of weeks. Not only have Ali and Sarah paired me with the fantastic Ingenuity, but have been available and open to support me all the way throughout the process from introduction to offer. I start my new exciting position with Ingenuity next week and I couldn't be more grateful to the team at DNA Recruit for their professional, expert and friendly approach. If you're in need of a true expert in the agency field with quality connections, I certainly would recommend Ali and DNA Recruit
Toby Cosser Hindle
Account Director
I have worked with the DNA team as a client and candidate for 18 years. I have always found them professional, trustworthy, and driven to do the best possible job for me in both roles. They appreciate the importance I have placed on finding excellent people and, from a personal perspective handling my career progression sensitively DNA stand out in their field and are one of the only a few recruitment consultancies I can genuinely recommend.
Stephen introduced me to the exciting world of AKQA and he helped me to get involved with the new role at VolvoCars as an AKQA consultant. He's absolutely been a star in the procedure and helped a lot to facilitate the contract despite all the delays and busy life routine I had. I highly recommend Stephen to any contractor out there looking for a new opportunity!
Ehsan Hatami
Senior Software Engineer
As this was my first time working with Gemma, as many do when working with recruiters (for the obvious reason of spamming), I proceeded with trepidation. Unlike many recruiters however, who contacted me on my recent job search, Gemma had clearly done her research. She contacted me with a role that she knew I would love. Not only had she actually read through my LinkedIn page, she was able to provide all the information I needed.Her consideration to my needs, including workplace culture, remuneration and progression all stand to show her experience and passion for recruitment. Naturally conversational, inquisitive and genuine, Gemma made the hiring process a breeze. My concerns and experience throughout the process, were always her main priority. Sufficed to say, my experience was stress free, I was fully prepared prior to any meetings with her client and she demonstrated a significant confidence in me at all times. So often, recruiters reach out with little to no substance to their experience or the role of which they are promoting.I can't thank Gemma enough for her time, hard work and most importantly her support. I encourage anyone looking for a role to get in touch.
Laurie Perfect
Media Sales Manager
​Looking for a new role is never straightforward, especially when you don't know exactly what you want, and your inbox is swamped with unsolicited messages from recruiters.However, I'm glad I made the decision to reply to Stephen's message. The role he had in mind for me piqued my interest, and following several very honest & insightful calls with him, I interviewed for the role and ultimately accepted it.Throughout the entire process, Stephen was on hand to deal with all of my questions & concerns, both professional & personal, allowing me to make a fully informed decision.I would have no hesitation in recommending Stephen to all my friends & colleagues, and would happily work with him again in the future.
Kevin Bonett
Senior UI Developer
Gemma is by far my favourite recruiter. (Sorry Ali) She not only finds us the best candidates and understands our business she is a pleasure to deal with. She has attention to detail, she always comes through with the best candidates and just in general a gem to deal with. Couldn't recommend her anymore highly!!
Clare Harper
Client Services & Commercial Director
Gemma really understands events and experiential which is truly a rarity, in my experience of working with recruiters over the past 13 years. Gemma has a genuine warmth, a friendly approach and is invested on matching the right candidate with the right role. I had a thoroughly positive experience and would highly recommend Gemma and DNA.
Doireann McMahon
Freelance Project Director/ Exec Producer
Having worked with Ali and his DNA team before, it was a delight to meet Gemma, who exceeded all expectations and beyond in her ability to work quickly and secure interviews. A telephone conversation was had with her on Wednesday afternoon and by Friday lunchtime I had accepted an offer.She was incredibly quick, and I could easily tell she had an amazing rapport with in-house hiring managers of the companies I was put in to, especially as my new role didn't exist until Gemma spoke to her connection there.Gemma kept me informed at all times, even out of working hours and was very easy to deal with. The whole process from start to finish was, excellent, professional and of a 5* standard. I highly recommend Gemma and the DNA team for an outstanding level of service and network.
Zoe Edwards
Senior Events Producer
This year I've had the pleasure of working with Ali, Sarah and the DNA team to find a role for a second time (the first being back in 2016). Once again it's been an absolute joy. Their approach is to find the right fit for you not merely a job or a job title, I find that so very refreshing. I trust them implicitly, and I don't think I would use anyone else to help me find a job ever again, not that I plan on looking again for a very long time!
Lucy Downing
Client Engagement Director, Somo
I'm not going to bore you with the impressive professional skills possessed by Ali and the team at DNA Recruit - as their successful track record speaks for itself. Instead, I'd like to go for a human approach and describe DNA's careful and precise nature. DNA Recruit is different from any of the other experiences I've had with other recruiters. Their team of experienced and skilled people led by Ali, an honest individual, were always ready to help and support the client and me. Language or cultural barriers aren't a problem with Ali, as he understands your needs even when 800 miles away, literally! It has been such a pleasure to work with him, and I would highly recommend DNA Recruit to both anyone searching for their dream job and any company in need of a new member of staff.
Daniele Falzone
Managing Director, Cheil Italia Srl
The keyword that I would use to describe DNA is pro-active. Ali was fantastic at approaching the types of organisations that would make a perfect fit for my aspiration. He did so from the point of real understanding. He spent time understanding my experience and what I could bring to an organisation, and what I was looking for from my next appointment. Ali understands the business and the role, and I found him insightful as we discussed my next move. Fast forward ten years, and I still love it!
Ashley Patterson
Executive Planning Director
DNA get digital and understand very quickly how to match candidates skills and experiences with roles at a digital product agency. The calibre of candidates is excellent and their ability to listen not just to the agency but to the candidates and the sorts of roles they are seeking, is second to none.
Rebecca Crook
Chief Growth Officer, Somo
We've used DNA ever since we set up Initials back in 2006 (as well as a few years prior to this in previous lives, Ali originally introduced Richard Barrett and I, so we have him to thank for Initials being born) What I like is their proactivity, presenting us with solutions that we didn't know we needed. They can be like a dog with a bone sometimes…but often that is what's required in this day and age, as Ali will remind us throughout any particular candidate search process. And it's only when you look back at the colleagues that have joined the agency over the years, that you begin to appreciate their contribution. Keep up the great work DNA!
Jamie Matthews
CEO, Initials
Working with DNA has really opened our eyes on talent search. Ali and his team provide a combination of in-depth sector knowledge and long term vision. They're genuinely decent people to work with. They've given us real value and insight into determining what we really need in a candidate and found us the right people, quickly and without fuss Without hesitation, I would recommend DNA as a key strategic partner to any agency needing to invest new talent.
Rod Taylor
Managing Director, MERCIECA LTD
Ali and the DNA Recruit team have been a partner to BWM for almost a decade. We have met some great talent through them many of whom still work for us today. Despite the long distance between Sydney and London we still feel the personal care and commitment Ali brings to every assignment.
Jamie MacKay
Founding Partner & Chief Strategy Officer, BWM Dentsu
DNA exudes partnership. They strive to understand your business, culture and needs so that their talent connections truly hit the mark. They're wonderful about proactively sending through people of interest because they sincerely care about helping individuals and businesses find the right professional opportunities and fit. Strategic, personable and highly professional, I strongly recommend DNA.
Cheryl Hatfield
Senior Vice President & Managing Director, VMLY&R Commerce
Working with Ali and his team has been a pleasure. Firstly, he gets great, well-matched roles and secondly, he makes the whole process seamless throughout. I am delighted with the role Ali has found me at Clockwork and couldn't recommend DNA highly enough.
Richard Dutton
Managing Director & Co-founder, Clockwork UK
DNA is different from other agencies I've worked with because of their ability to react quickly with what I need. I found the whole experience professional from start to finish and we keep using DNA as our preferred recruitment agency.
Stuart Bradbury
Managing Director, Avantgarde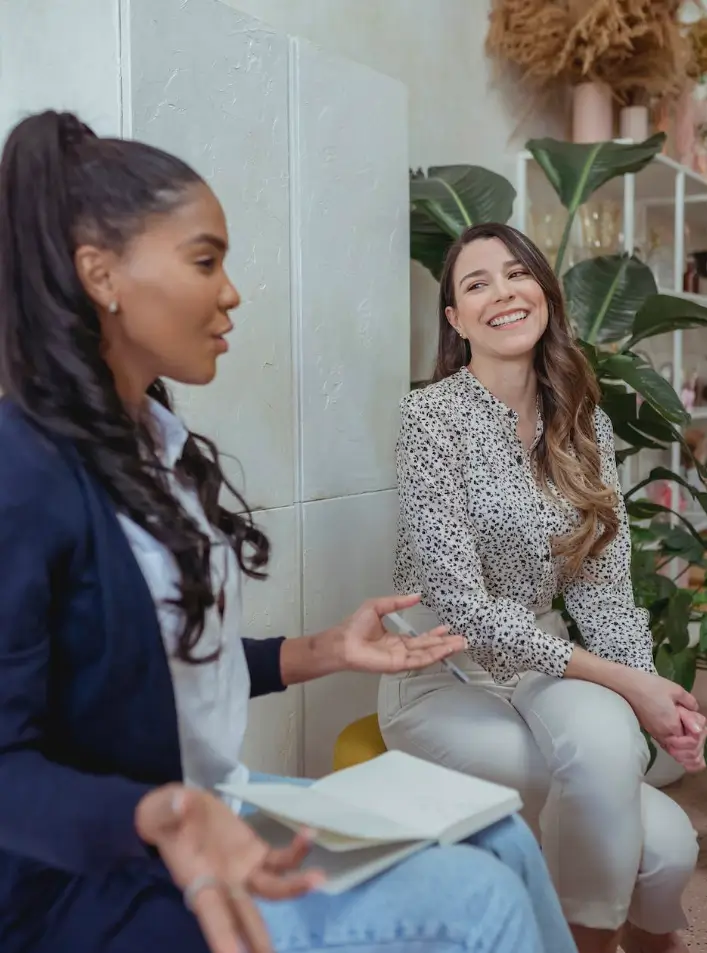 Looking to hire?
WE FIND
TALENT
We're part of your crew. We'recommitted to investing in the best recruitment technology and have embraced the latest cloud based interviewing software
Careers